Foreign Remote Jobs In Nigeria – Flaxx Finance
A remote job is not just a way to work from the comfort of your home. It's an excellent way to cut costs on transportation and save time as well as peace, most especially during traffic hours. Thanks to the 2020 lockdown, many organizations have seen that allowing employees to work remotely is just as effective as having them come to the office . And so remote jobs have become increasingly popular amongst job seekers.
While some companies still insist on the usual show up at work saga, you can still find remote jobs in Nigeria. In fact, some of these jobs are of international repute and has the ability to launch your career into the global market. And so in this article, we'll be looking into websites that share open remote job roles. Just keep reading to find out more….
Top 10 Outstanding Websites To Get Foreign Remote Jobs In Nigeria – Flaxx Finance
There are two major options when it comes to starting your freelance career. You can get web hosting and a domain name to build your own website to offer services online. Or you can register an account at one of the freelance platforms. If you feel like the second option fits your current needs better, then you'll find this list very handy.
Here are our top 10 freelance websites to choose from:
Fiverr is a platform that connects freelancers with business owners looking for services in various digital projects, including website design, content writing, and voice-overs.
This freelance website provides a streamlined method for both freelancers and business owners to interact with one another. Note that on the website, freelancers are called sellers, their services – gigs, and business owners – buyers.
Instead of sending out bids, sellers can sign up for free, list their gigs, and set their prices. Meanwhile, buyers can simply browse through different categories to purchase.
Whenever a buyer purchases a gig, the system automatically charges their account and puts the money on hold. The system will then take a commission fee and send freelancers 80% of the offered price.
Fiverr opens up a world of potential sales with 3.42 million active buyers. There are no hourly rates, just project-based pricing that you get to decide.
Sellers are guaranteed protected payments with an SSL certificate that protects billing and personal information. As well as around-the-clock customer support always ready to help out.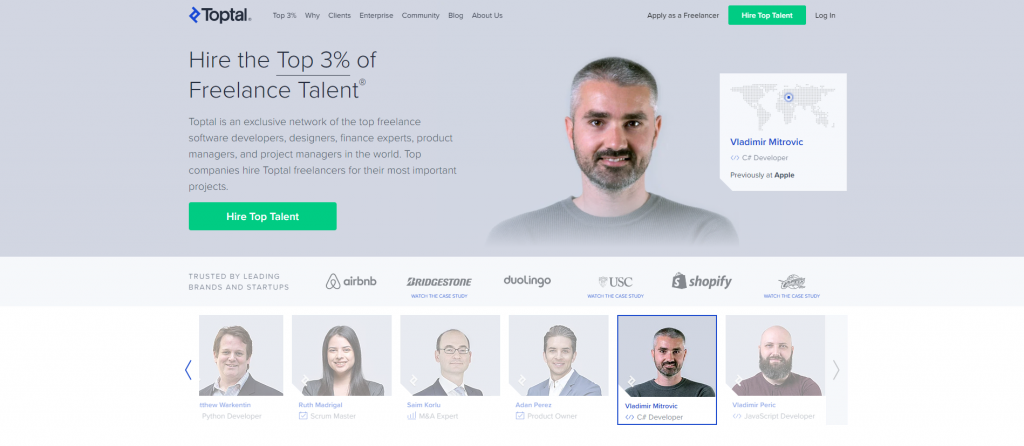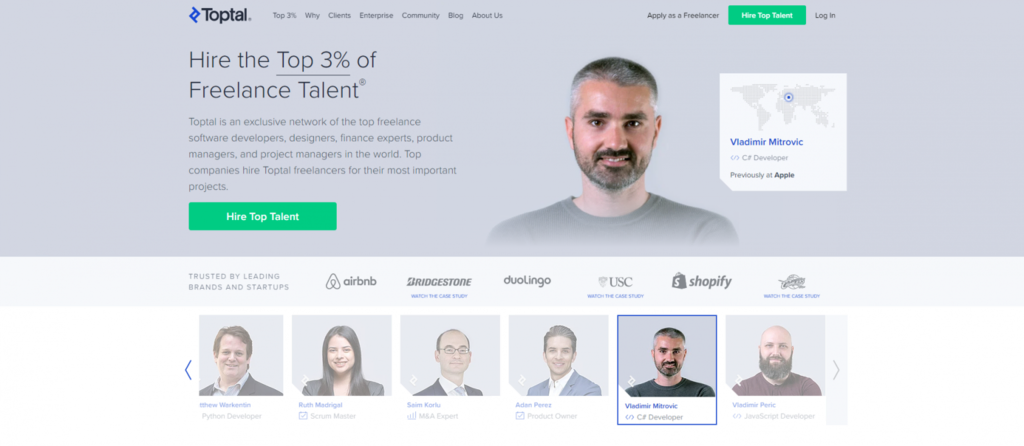 Toptal is a freelance website that connects highly qualified freelance industry experts with companies. Toptal has a broad range of freelancers, from web developers and web designers to finance consultants and product managers.
Applying to Toptal as a freelancer requires passing five steps of the screening process, from a comprehensive English evaluation to a project assessment. This process ensures only the top 3% make it to the platform.
After passing all of the steps, you'll have access to various job postings from top clients and companies, such as Motorola and Airbnb. However, failing the test will put your application process on hold for up to a few months.
Toptal has a dedicated service for time tracking and invoicing called TopTracker. With this service, freelancers will get the total price they offer and receive payments via Payoneer, PayPal, or direct local bank transfer.


Jooble is a search engine for job vacancies and it aggregates from 140,000+ sources worldwide, including corporate websites, online job boards, freelancing platforms, social networks, and classifieds.
A significant advantage to using Jooble is that you don't have to check multiple online job boards and freelancing platforms, as it centralizes the process of finding freelance opportunities.
Jooble lets you find jobs within a particular region only. On the homepage, you can select a specific city in your country to discover jobs limited to that area.
You don't have to create an account to find freelance jobs on Jooble. All you need to do is enter the keyword for the job you want into Jooble's search engine. Apply different filters such as salary range, work experience, and post date to help find your preferred job match.
Since Jooble is an aggregator, selecting a search result will redirect you to the source of the job vacancy. There, you will find more details about the job and how to apply for it.
Sign up for Jooble's email alerts if you wish to get notified whenever it finds a new job for the keyword you're interested in.
Freelancer.com is another freelance website where professionals and companies from around the world collaborate on various projects. Thanks to the wide range of expertise, clients can easily find an expert of any type.
You can sign up as a freelancer or business owner. Signing up as a freelancer will require you to fill out a short registration form. Provide detailed information, including your skills, educational background, and work experience.
In addition to projects, there are many contests, such as visual or design work. Freelancers can benefit from these contests by earning money along with reviews on their profiles.
Every freelancer will receive full payment after completing a job. However, the platform takes 10% of your total earnings for contests and fixed projects. Like most freelance sites, you can choose to use PayPal or wire transfer for withdrawal.
Upwork is a freelancing website that connects clients and freelancers from across the globe.
The platform provides a wide range of categories, from web design and software development to customer service and accounting.
Clients and freelancers have multiple ways to connect – clients can choose to post a job and hire talent or buy a predefined service from the project catalog. Similarly, freelancers can access the job board and offer a service to sell.
To get started as a freelancer with Upwork, begin by creating a profile. Ensure it includes details about yourself, your expertise, and your work experience. Keep in mind that clients will decide whether you're qualified by scanning through your profile whenever you bid for jobs or pitch a project.
Upwork has a sliding scale, meaning the more you work, the less money you pay. For example, the commission fee starts from 20% for the first bill of $500 and gradually reduces as you receive more money.
There are several options for withdrawal, including direct transfer, PayPal, and wire transfer.
Flexjobs is a website that specializes in flexible and remote job opportunities, including freelance, part-time and full-time jobs. There are broad categories, from education and training to journalism and writing jobs.
Flexjobs ensures every job listed on the website is legitimate. It verifies and screens all openings, filtering out scams and fake companies. Unlike other online job boards, this freelance website doesn't display any advertisements on its page.
To find freelance jobs, users need to sign up for a subscription. There are four plans available, starting from $6.95/week. Every subscription gives unlimited access to the job listings, along with a personalized work portfolio, career advice, and free skills testing.
Users can pay for their subscription with a prepaid card or PayPal. There is a 30-day satisfaction guarantee, meaning you can get a full refund if you're not satisfied with the service.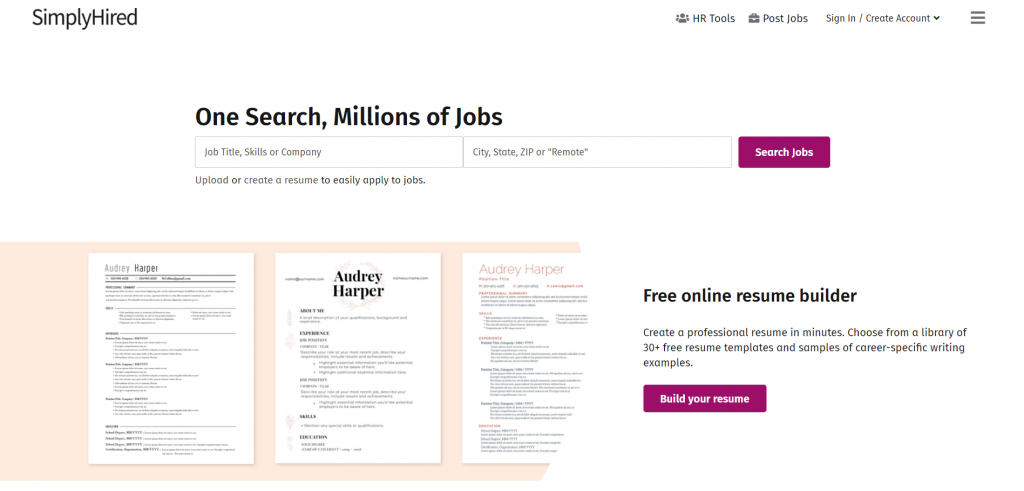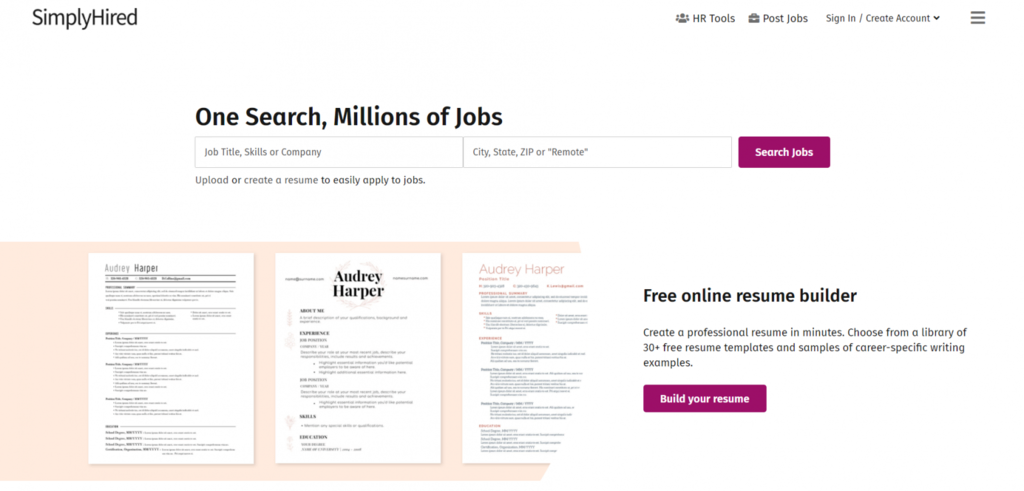 SimplyHired is a job board where companies can post job opportunities for free. It also collects job offers from all over the internet into one page. The site has a clean user interface, making it easy to browse jobs by category.
There are various freelance opportunities in different fields, including finance and marketing. To find a specific job, simply fill out the search box with related keywords. To have more relevant results, narrow it down by filling out your city, state, or ZIP code.
Job seekers can also access the company pages to learn more information such as a salary overview of a company, a list of benefits offered, and reviews submitted by its real employees.
People can browse through SimplyHired without a profile. However, signing up for an account will give you access to various job tools, such as a salary estimator and resume builder.
Guru is a place for freelancers and companies across the globe to work together. Companies can hire professionals with various skills, such as programmers, graphic designers, and product managers.
This freelance website makes it easy to browse job listings and submit quotes to clients. Start by signing up and building a freelancer profile. The system will give job recommendations based on your skill-set and work experience.
Freelancers can bid for long or short-term projects and give a fixed price for each project. There are multiple withdrawal methods to receive your earnings, including PayPal and wire transfer. More importantly, the site ensures freelancers get paid timely with SafePay protection.
Every freelancer that signs up on this freelance website gets a free basic membership. However, paid membership plans include more tools to make your profile stand out.
LinkedIn is one of the most popular job sites providing an easy way to find jobs in various fields. It's also a social networking platform for professionals to connect and interact with each other.
Simply sign up and create a profile to get started. Include as much information as possible, such as your skills, education, and work experience. A comprehensive LinkedIn profile can open up more job opportunities.
Adding a new post can also give your profile more exposure. For example, if you're a freelance writer, create a post describing your expertise and attach your work portfolio. Potential employers might discover your profile and make you an offer.
Browsing through LinkedIn job postings is also a great way to find freelance opportunities. To find your desired freelance job, make sure to use related keywords and sort the results from the latest.

Different from previous freelance sites on the list, Behance is a social network for creative talents. People worldwide use this website to build portfolios and share their creative work, ranging from animations and illustrations to website and graphic design.
Whether you are a freelance graphic designer, web designer, or animator, Behance provides a place to get discovered by potential employers. Start by signing up for an account and establishing your profile.
As it's a networking site, the more profiles you follow, the more posts will appear on your feed. It gives a chance to discover more freelance work opportunities.
Behance also provides a job list. Every freelancer will get a personalized job recommendation according to their skill-sets and category, making it easier to find freelance work that matches one's expertise.
Best ways to seamlessly receive US dollars in Nigeria
When to Increase your Prices as an Entrepreneur – Flaxx recommendation (2023)
How to Successfully Complete Your KYC on Flaxx.co in (2023)
3 Major Factors That Determine Foreign Exchange Rates in Nigeria (Flaxx.co)
5 Financial Tips to Being a Successful Digital Nomad in 2023 (Flaxx Finance)
Best Flutterwave Alternative For International Payment Processing – (Flaxx.Co) 2023 Recommendation.
The Perfect Skrill Alternative For Nigerian Freelancers In 2023 – Flaxx.co
Receive US dollars in Nigeria Receive US dollars in Nigeria Receive US dollars in Nigeria
Best Wise Alternative For Nigerian Entrepreneurs (Flaxx.Co) 2023 Update
Proven Ways To Make Money Online With Flaxx.Co In 2023 – (Fresh Update)
Foreign Remote Jobs In Nigeria Foreign Remote Jobs In Nigeria Foreign Remote Jobs In Nigeria
Foreign Remote Jobs In Nigeria Foreign Remote Jobs In Nigeria Foreign Remote Jobs In Nigeria